T.O.F.U. #14 | The Vegan Illustrators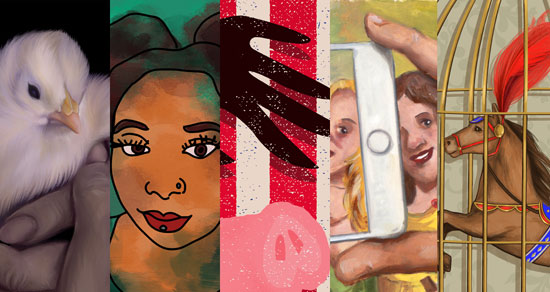 I don't think I really made it a secret that finding people with the energy and time to work on the newest issue was tough, and that goes for the illustrators just as much as the writers.
Thankfully, after a rather lengthy search, I managed to confirm a lovely group of people, and I'm really happy with what they brought to the pages of this issue.
For those of you who have read past issues, you may recognize some familiar names, and I'm grateful that these people continue to choose to help the magazine.
So, please check out the various social media accounts for all of these vegan artists, and perhaps give them a follow where you can. I'm quite confident that the artwork below isn't the only wonderful stuff they've created.
If you're interested in seeing the full pieces, you can download the latest issue here.
Monika Andreković
Monika Andreković is a vegan artivist living in Stratford, Ontario, Canada. She loves meditation, volunteering at Cedar Row Farm Sanctuary, cycling, and whole plant foods.
w: veganmonika.com ig: @veganmonika
Julia Feliz Brueck
Julia Feliz Brueck is a decade long vegan, mother of two, scientist, and published author and illustrator. She is also the founder of Sanctuary Publishers, a vegan book publisher that gives back to marginalized communities with every book sold.

fb: juliafelizbrueck & sanctuarypublishers
Angie Carlucci
Angie Carlucci is a graphic designer living in Toronto, Ontario, Canada. She is a vegan foodie who loves crafts, cats, cycling, and hand-lettering for her ongoing project all about veganism (Vegan Mantras).
w: angiecarlucci.com | ig: @veganmantras
Matt Gauck
Matt Gauck is a freelance illustrator and screen printer living the rural life in Whittier, North Carolina, USA. He spends most of his time drawing, skateboarding, and watching bad horror movies. He is also good at handstands.

w: mattgauck.com | ig: @veganpatches
Meneka Repka
Meneka Repka is an artist and teacher living in Calgary, Alberta, Canada. She holds a PhD in education, and teaches both university and high school courses. She also runs Nooch Greeting Cards, and is a co-founder of VegFest Calgary.

ig: @meneka_repka & @noochdesignco
Mar. 29, 2019
Comments Off on T.O.F.U. #14 | The Vegan Illustrators
Related Posts