T.O.F.U. Talks: Vegan Musicians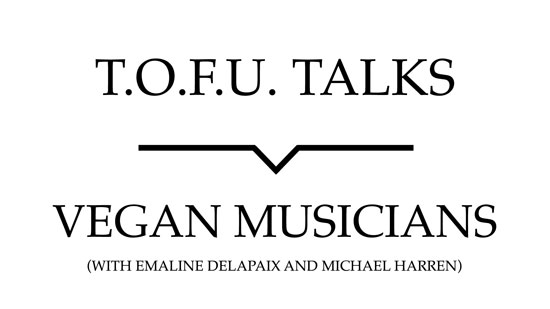 Being a musician can be a tough job, but for many it's just something they are driven to do. In this episode of the T.O.F.U. Talks series, I had a chance to talk with two vegan musicians, Emaline Delapaix (Berlin) and Michael Harren (New York City), about how their veganism influences their art, what their fans think of it, and more.
Note: Unfortunately, it seems Skype didn't play nice with the group video after it was recorded, and Emaline's video is partially cut-off. Thankfully, the conversation is still intact. If you wish to see Emaline in full, I recommend you check out some of her stuff through the links below.
Emaline Delapaix
Emaline Delapaix is an Australian singer, composer, and musician who lives in Berlin, Germany with her big orange Canadian cat Reece. She spends a lot of time writing intense folk-pop songs for piano, acoustic guitar, Celtic harp, and sometimes whatever else she has lying about the place. Her lyrics explore themes such as the human condition, depression, animal rights, feminism​,​ sexuality,​ as well as love, ​nature,​ and adventure out on the open road​​.​ Some say she sounds a little like Kate Bush or Tori Amos, but she also loves a lot of Scandinavian music, music that invokes the weather like storms and warm sunsets.
Facebook | Instagram | Twitter | YouTube | Patreon
Michael Harren
Brooklyn-based composer and performer Michael Harren combines elements of classical composition with experimental electronics and storytelling to create hypnotic and boldly intimate work that walks the line between Laurie Anderson, Peter Gabriel, and Dead Can Dance. He is artist-in-residence at Tamerlaine Farm Animal Sanctuary where he created the solo multi-media theatre piece The Animal Show, which premiered in New York City in 2016, and continues to be performed in venues throughout the United States of America.
Website | Facebook | Instagram | Twitter | YouTube | Patreon
Aug. 05, 2019
Comments Off on T.O.F.U. Talks: Vegan Musicians
Related Posts