TBT | Nesting Dolls and Body Image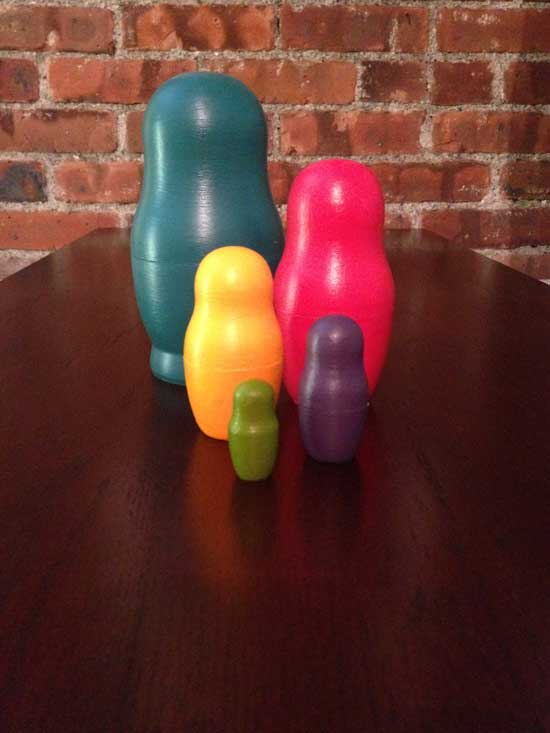 As I've said many times before, one of my favourite parts of putting together a new issue is deciding on the cover concept and making it a reality. Over the years, I've had some weird ideals, and I know my photographer, Devon Crosby, would certainly agree. However, I like to think that my concept for the seventh issue, which focused on body image and fat shaming, wasn't that strange.
Given the topic, I knew I wanted to portray the idea that vegans come in many sizes, and nesting dolls seemed like a great way to do that. Of course, finding them wasn't quite as easy as I had thought it would be. The difficulty was mainly in the fact that I wanted plain dolls so that I could have them painted in ways that didn't portray any certain type of person. Thankfully, the Internet eventually provided, and a set of dolls made their way to me in Newfoundland.
After a lovely paint job by a friend, the next difficult task was to find a suitable background to place them against. As always, Devon came through and devised a way to shoot the dolls in front of the brick of his fireplace. Needless to say, I wish I also had a photo of the set-up he used to place the dolls above the floor of his living room. I don't recall any dominoes, levers, or pulleys, but I do remember that things were kind of precarious.
Luckily, no one sneezed and Devon got the shot he wanted. A smidgeon of digital magic later, and the cover for the seventh issue of T.O.F.U. was complete.
If you'd like to see what else the issue contains, you can find it here.
Feb. 13, 2020
Comments Off on TBT | Nesting Dolls and Body Image
Related Posts