#OurNewNormal | Sarah Louise of Edmonton, Alberta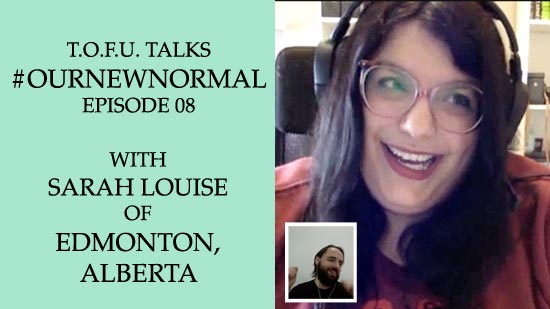 In the eighth episode of #OurNewNormal, a T.O.F.U. Talks limited series, Sarah Louise provides a glimpse into life in Edmonton, Alberta, Canada during the COVID-19 pandemic. Touching on serious topics such as calling out the BS of fatphobic posts and the harmful push to hustle at a time like this, things get serious as much as they do silly. And yes, I do at least one little dance.
For more info on Sarah, and some comforting recipes, check out her website here.
Podcast: Play in new window | Download (Duration: 59:07 — 83.6MB)
Subscribe: Apple Podcasts | Google Podcasts | Spotify | Android | iHeartRadio | Stitcher | Blubrry | TuneIn | RSS
Apr. 28, 2020
Comments Off on #OurNewNormal | Sarah Louise of Edmonton, Alberta
Related Posts