#OurNewNormal | Chilis On Wheels in New York, New York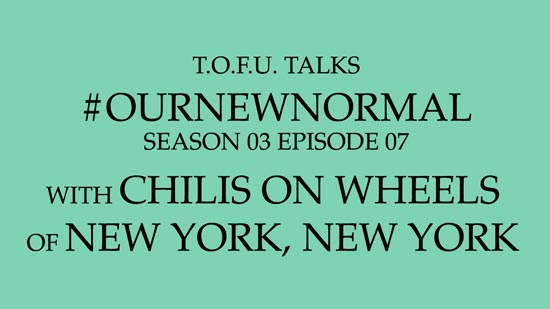 In the first episode to involve a vegan organization, I chat with Eloisa T. from Chilis On Wheels to find out what sort of impact the organization has experienced during the COVID-19 pandemic. From the disproportionate ways in which the restrictions affect communities in New York City (and even the rest of the United States) to her personal disconnect from friends and family as she continues to work outside of her home, Eloisa helps to show the importance of compassion and community within our new normal.
The Medium article I mentioned can be found here.
To learn more about Chilis On Wheels, please check out their website.
To connect with Eloisa, please follow her Instagram accounts: @veganactivistsalliance | @elogata
Podcast: Play in new window | Download (Duration: 51:32 — 71.2MB)
Subscribe: Apple Podcasts | Google Podcasts | Spotify | Android | iHeartRadio | Stitcher | Blubrry | TuneIn | RSS
Jun. 02, 2020
Comments Off on #OurNewNormal | Chilis On Wheels in New York, New York
Related Posts