Behind the lines: Stéphane Groleau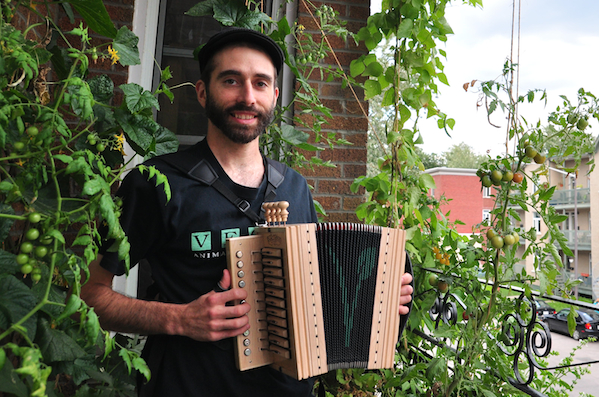 Although I have never actually met Stéphane, we have corresponded over the past couple of years about several vegan things. An active member of the vegan community in Quebec, as well as an organic farmer, Stephane was kind enough to write two articles ("Agriculture et Veganisme" & "The World's First Vegan Accordion") in the current issue of the magazine. Plus, in a T.O.F.U. first, one of those articles was in French. Presenting articles in languages other than English is something we hope to do more of in the future, and we're glad Stéphane was the first.
VeganQuebec | Veganic Garden Info | Eco-rdeon | Facebook
In one word, why are you vegan?
Foodfriendsanimalsearthlovelife

How long have you been vegan?
I became vegan in 2001. That's about ten years ago!

Who would win in a fight: Quinoa or Couscous?
Quinoa would win! It's healthier and more nutritious than couscous, and quinoa can replace couscous in recipes. We can even eat quinoa raw by sprouting it. Couscous doesn't sprout very well!!!

Would you prefer to lead a revolution or to live quietly in the woods?
I think I would lead a revolution in a quiet wood…

If there is a revolution, will it be televised or a Facebook event?
I don't think a revolution can be televised or a Facebook event. A revolution needs to be enacted! Though, a Facebook event could help. 🙂

Favourite vegan thing in your town?
The vegan potluck we organize each month!
Jan. 29, 2011
Comments Off on Behind the lines: Stéphane Groleau
Related Posts