Did someone say pancakes?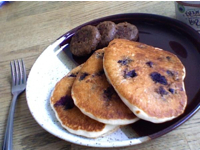 In honour of Pancake Tuesday, I thought this recipe was appropriate. Taken from the first issue of T.O.F.U., I still tend to believe this is one of the better pancake recipes out there, but I'm willing to have someone shovel pancakes in my mouth to convince me otherwise!
AAAmazing. I adapted this recipe from my cousin Nick from Seattle. He's been vegan for years and years and years and thanks to him I finally discovered the miracle of fluffy vegan pancakes. Never doubt that baking powder can change the world!

1 1/2 cups white flour
1 1/2 tbsp. cornstarch
2 tbsp. baking powder
1 tsp salt
1 1/2 cups soymilk
1/4 cup canola oil
blueberries, chocolate chips, etc

Sift flour, cornstarch, baking powder and salt into a bowl. Add soymilk and oil and mix gently until all the big lumps are gone (I use a whisk for this). Add extras like blueberries now, if you really think you need them. Let the batter sit for several minutes so the gluten can absorb the liquid and your pancakes will be fluffier. While it's sitting, preheat your NON-STICK pan or griddle to medium heat (don't go too low or you'll have pale pancakes). When pan is hot, use one ladle-full of batter per cake, and you'll get about eight out of a batch. Flip cakes when bubbles start popping towards the middle, and the edges are cooked. Cook for 3-4 minutes more on the second side, and you're good to go! Smother with vegan margarine and pure maple syrup for breakfast paradise.

By Claire Gallant
Mar. 08, 2011
Comments Off on Did someone say pancakes?
Related Posts