Review: The New Enlightened Eating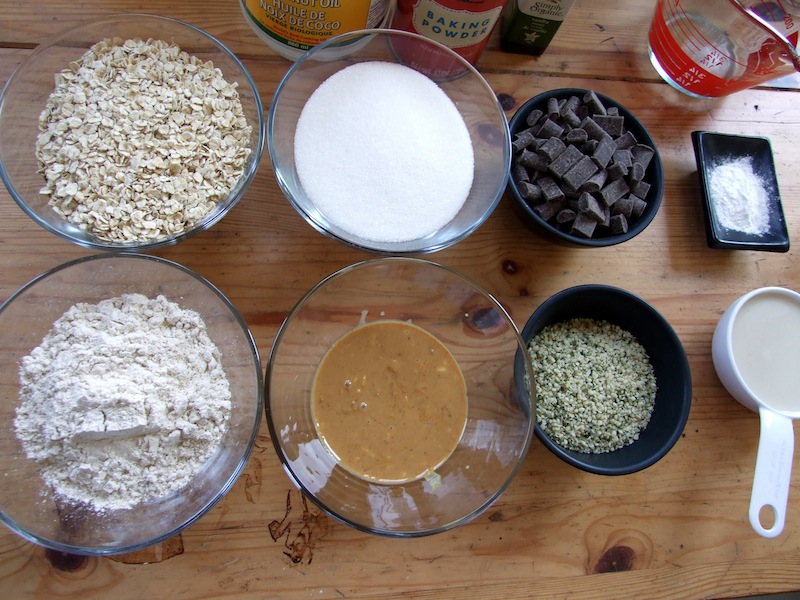 Caroline Marie Dupont has remade her first cookbook into The New Enlightened Eating. It's filled with easy to follow recipes, and made with ingredients that are readily available at any grocery store. The book has a wide variety of recipes for nearly every meal starting with juices and breakfast dishes, homemade condiments, muffins, soups and entrees, and desserts.
Getting started
The cookbook starts with three chapters with health advice, basic dietary tips, and some gentle do's and don'ts of a healthy life. I'm a skeptic when it comes to food combining and focusing on alkalinity, but I think it's great that she mentions eating consciously and locally whenever possible. Encouraging a healthy curiosity about what people eat is always a good idea.
Take with a pinch of salt
The non-recipe part of her book is an easy to follow guide for a beginner. It is written in friendly and mindful language and feels a lot like talking with a friend over tea. In the introduction, Caroline mentions a list of changes in the new edition of her book, some were for the better, such as replacing agave with maple syrup, but she has also reduced the salt content of all her recipes and it was a noticeable omission. I found myself reaching for the saltshaker quite often once I got to the dinner table, and generally, I'd prefer to add salt while cooking so it permeates the meal better.
I did not like the organization of the table of contents, since it didn't actually have a list of recipes under each category/chapter (though each category page does list the recipes available within the chapter.) The index became my go to for ingredients and dishes, and luckily it's very detailed and easy to use. I also appreciated the Appendices, since they were full of great advice on how to cook beans and grains, explanations of ingredients, kitchen planning and equipment, and meal plans (both for special occasions and weekly dinner ideas.)
The recipes
My partner and I looked through the book for recipes, and over the course of a month we tried the following:
Scrambled Tofu (pg 46)
Chunky Guacamole (pg 67)
Asian Miso Soup (pg 79)
Cashew Corn Chowder (pg 82)
Vegan Macaroni and Cheese with Broccoli (pg 138)
Bean Enchiladas with Red Sauce (pg 142)
Rosemary Portobello Mushrooms (pg 159)
Root Fries (pg 160)
Classic Dahl (pg 164)
Oatmeal-Chocolate Chip Cookies (pg 178)
I thought the Rosemary Portobello Mushrooms were especially creative and tasty, along with the Cashew Corn Chowder, which was perfect for a cool grey fall day. It was also an easy to follow recipe, though I would halve the amount of parsley in future attempts (I don't like parsley, but even so, it was very pleasant.)
Two of the best lazy meals we made were the Asian Miso Soup and the Vegan Macaroni and Cheese with Broccoli. Miso soup is something we make around once a week, so it was interesting to follow someone else's style for a meal. The addition of carrots, cabbage, and celery wasn't something we would normally do, but it definitely made for a heartier soup.
The Vegan Macaroni and Cheese with Broccoli was so simple, and Caroline's Cheesy Sauce (pg 115) was great, despite using unsoaked cashews as recommended for the sauce, it still turned out smooth and creamy and flavourful (though I did add more salt after cooking.)
I baked up one dessert, though we had our eyes on several. The Oatmeal-Chocolate Chip Cookies ended up being delicious, but it took some time. My cookies spent an extra 10-15 minutes in the oven before they were fully baked, so it's worth paying attention to appearance when making these (and of course, all ovens vary.) Oddly enough, these cookies weren't delicious fresh out of the oven. Normally I can't stop eating hot and chewy chocolate chip cookies, but in these the hempseed flavour and smell was initially overpowering. Several hours later the hempy taste was gone, and the seeds just provided a pleasant texture along with the oats. Now I can easily say they are some of my favourite chocolate containing cookies. Crispy on the outside, chewy on the inside wins every time.
Obtaining enlightenment
Ultimately this book had several recipes that I liked, and would make again. The recipes I tried were easy to follow, with simple and easy to find ingredients, and contained friendly helpful tips on every page. I'd recommend this book for someone just starting out and looking for healthy and straight-forward meals. It has good advice on transitioning to a healthier household, and acts as a great introduction to products that are available at a regular grocery, but not always part of a standard diet.
Reviewed and recommended by MeShell Gudz (@mdgee or Meshell.ca)
Photo: Oatmeal-chocolate chip cookies in progress
Related Posts