#TBT | The First T.O.F.U. Tour | Part I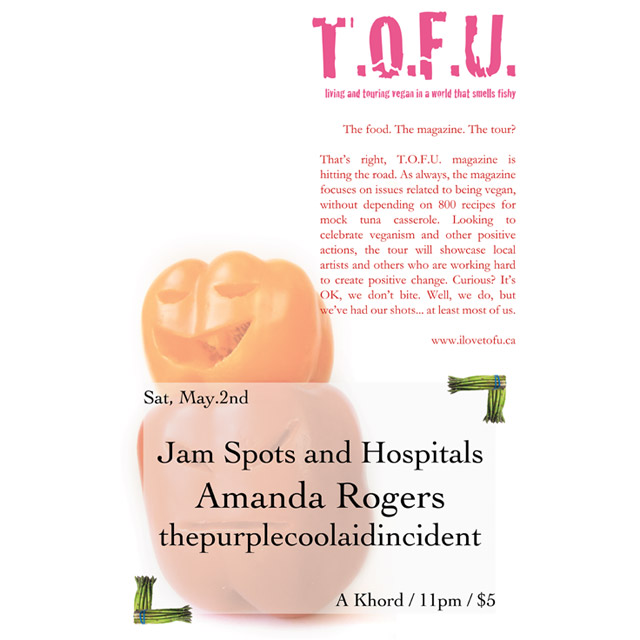 Over the years, I've come to realize that there are (sadly) not that many people who would think it wise to jump into a van for over a month with two musicians they had met online to travel across most of Canada and the United States. Lucky for me, I've been one of those people for quite some time, and I certainly was in 2009 when I did just that with Amanda Rogers and Mike Matta. Understandably so, this adventure we embarked on has quite a few stories, and a number of them occurred even before we finally met.
I've Got an Idea!
Before I can even begin to tell the tale of how Amanda and Mike spent days sleeping in their van in Calais, Maine due to several failed attempts to cross the border, I should probably explain why they were even there in the first place.
To: Amanda
From: Ryan
Subject: and now that the holidays are over…
Date: Mon, 29 Dec 2008

Hey stranger,
Reading your MySpace I'm sensing that your christmas went well perhaps?
Mine is just finishing up, and I'm headed back to work, but unfortunately I did little more than work throughout the holidays. So much so that I'm thinking I need to quit my job in the next few months in search of something that produces a little more free-time, even if it means a little less debt-paying cash.
=-)
That being said, I want to start working on T.O.F.U. and I know the idea of having you involved in a tour through Canada, or at least a part of it, is appealing to me. So, I'm wondering what your plans are for the spring/summer of 2009?

hope all is well,
Ryan Patey
Tumbleweed Entertainment
Halifax, NS
www.twentertainment.ca
I guess it's obvious how much of a throwback this is when MySpace is being referenced, right? At the time, it was one of the best ways to communicate in the independent music industry, and I'm pretty sure that's how Amanda first reached out to me at some point in 2008. Funny enough, I would find out much later that she had been looking for tiny, portable homes and her search for something related to "tumbleweed homes" led to my music label, Tumbleweed Entertainment.
From this email, many more ensued as we worked out the details of what would become the biggest tour I've ever been a part of. As the days turned into weeks, we started to confirm venues and continued chasing after others. In reality, booking a tour is 90% unanswered emails, 5% luck, and 5% having friends who have friends that will help out. Basically, never getting a reply from a venue or booking manager is pretty much the norm, and so you just keep digging until things work out.
However, in some cases you just have to take a day off, and that's what happened when Amanda got what I still consider to be the most aggressive rejection from a venue I've ever heard of:
sorry we dont really do acoustic shows… we do really loud shows. we are the type of vegans that would stab you in the face, no peta crap.
I'm not going to say who this was, but, funny enough, while looking up things for this post I came to discover that they've been closed for years. Shocking.
Despite setbacks like that, we slowly worked out the details of the tour, and even settled on the idea of buying a van instead of renting one. In fact, Amanda recently retired said van (AKA "Big Red" or "Jean-Claude Van Jam"), and that's partially what inspired writing this post.
Thus, with something resembling a tour in the books, promotion underway, and a van ready to be filled with gear, merch, and vegans, the countdown was on to the first show! Both of us had been involved in the music industry for years at that point, so we knew to expect the unexpected no matter how much we planned things. In fact, one might say the unexpected things were a big part of why we even wanted to hit the road in the first place!
Keep Your Friends Close, and Border Services Even Closer
So, when the day came for Amanda and Mike to cross the border into Canada and make their way to Halifax, Nova Scotia for the first show, I wasn't completely surprised to have a call from Canada Border Services. Of course, it certainly wasn't something I had wanted to deal with soon after I arrived home from work, and given that we hadn't made sure to match our stories, I didn't feel the greatest when I got a call from Amanda a little while later to say that they had been denied entry.
If you've ever spent months on a project only to have it all come down to a decision on someone else's part whether or not it will really happen, and then they don't approve it, then you have an idea of what I was feeling the minute she said that. That being said, if you have put so much time and effort into something, then you know it's best to not give up easily, even if you're dealing with the government.
Maybe especially if you're dealing with the government!
Amanda was just as determined as I was, and once I knew they were okay to spend the night in Calais, I promised to get in touch with someone on my side the next morning to figure out a solution. Needless to say, I didn't sleep so well that night knowing that my tour mates were in a small town in Maine sleeping in their van when they were supposed to be in Halifax on my couch.
Sadly, one night turned into several, and Amanda and Mike missed the Halifax tour launch while I was dealing with paper work and a rather nice person in Moncton, New Brunswick who was willing to help me get them across even if I wasn't going about it the right way. On the bright side, I ended up telling this helpful person about T.O.F.U. because a younger member of her family was vegan and she thought they might be interested in reading it. Along with that, Amanda and Mike managed to book a show and have a great meal at a local restaurant in-between visits to the beach and the border to try and make it into my homeland.
Eventually, after becoming rather familiar faces at the border, and me finally getting the approval they needed, my determined pals made it into the land of maple syrup and hockey. So, I hopped on a bus and headed to Saint John to meet them for the second show. Lucky for us, Saint John wasn't too far from the border, so they didn't have a long drive. However, that also meant that the Border Services agents could easily attend the show too.
Given our luck so far, I wasn't surprised when Amanda and Mike informed me outside of the venue that one of them would be doing just that.
It'll Be Our Secret
The show itself went relatively well. The local acts were super friendly, people came out, and folks were genuinely interested in what we were doing. One of those people just happened to work for the Canadian government in regard to keeping the country safe from terrorists. Oh, and also ensuring people didn't enter the country to work illegally. In Amanda and Mike's case, that included possibly selling merchandise or receiving money from an event.
So, as they had told this seemingly friendly person time and time again while he was on duty, everything they were selling was by donation and any money made on the events was going to me. Outside of that, I was covering the costs of the tour, and, even though he didn't think it was possible, they would be travelling on the savings they had in their accounts. Yes, it got to the point where they had to show just how much money they had.
He persisted several times throughout the night that he would buy a CD, but all of us were too concerned about the rest of the tour to even find out if he was telling the truth. Luckily, he eventually called it a night, we found a place to crash, and went to bed looking forward to putting some distance between the border and the van. Montreal was next on our list, and the chances of more government officials attending the show would be slim.
Personally, I knew we would eventually have to deal with the border in another way, and no matter how much Amanda and Mike told me it would be okay for their Canadian friend to join them on tour in their own country, I couldn't help but feel like our border stories had just begun.
Just how right I was (and I really, really was) is a story for another time.
Beach photo credit: Mike Matta
Related Posts