Review | Love and Lemons by Jeanine Donofrio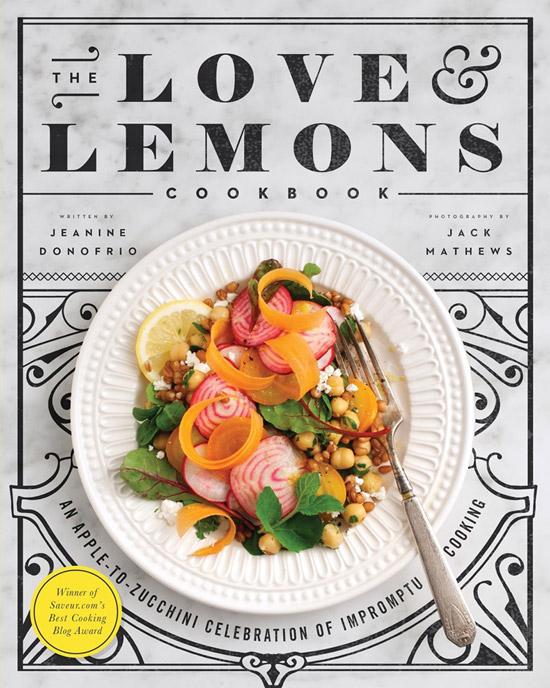 Jeanine Donofrio of the blog Love and Lemons has released a vegetable-focused cookbook of the same name. A lover of lemons, I was interested to see what sort of cookbook would result with the titular citrus. As it turns out, not many recipes had lemons in them, but what the book did have was a treasure trove of vegetable-focused dishes that surprised and delighted.
Jeanine's approach to recipe building is very familiar to me: she first starts off with a star vegetable. Something that could not be missed at the farmers' market, something about to go bad, or something that you're craving. Once you have your superstar, the dish and flavour profiles get built around that. The introduction also has some handy tips as to what to do with copious vegetables like "Kitchen Sink Salsa" and stick it in a tortilla if you are at a complete loss. Love and Lemons is written on this "backwards cooking" premise, with chapters sorted by main ingredient, from Apples to Zucchini. The appendices are for basics like how to cook grains, how to build a kale salad and four flavour combinations, and all the sauces, spreads, and dressings from hummus to salsa and everything in between to elevate the vegetables.
Taking the vegetable-focus concept to heart, I tried some that featured my favourite ingredients in unique ways. First up was the Apple Fennel Salad. I love apples, I could leave fennel. This salad was paired with a lemon mustard dressing that added a tangy heat to a simple dish of shaved fennel and apples. I loved the vibrant crunch of the two, and all the flavours married spectacularly. With some nutritional yeast sprinkled on top, it was one of the strangest things I've ever made, and one that is just so strange, it's delicious.
The Curried Cauliflower Fried Rice was on point. It reminded me of a fried rice korma, if you could imagine that. The complex spice profile had perfect ratios, and the quick raita made of yoghurt, lime juice, and cardamom added a creamy cooling element to the dish. Rich and flavourful, it was a decadent weekday meal. Grilled Eggplant and Summer Veggie Pasta was another win. A perfect heralding of warmer temperatures, the smoky grilled eggplant added an extra element of flavour. Grilled eggplant is one of my favourite things, with the creamy insides hiding behind the grill-marked exterior. Having no grill, I usually accomplish this by cheating a bit and charring the eggplant in the oven or on the stovetop. The quick pickled red onions added the perfect amount of acid, the summer vegetables (red pepper and zucchini in this case) add some pop, and fresh herbs round out this dish that is so suggestive of summer.
The last but certainly not least "Z" finished up my vegetable alphabet: the Zucchini Lasagna with Zucchini "Ricotta". I am one of those strange people that love zucchini even on week one billion of 14lb zucchini hauls from the market. This lasagna has zucchini two ways: in the lasagna as a vegetable, and in the ricotta with some tofu for texture. The result is a gloriously herbalicious pesto-based lasagna that was amazing. Co-workers were continually jealous of my leftovers, the pesto smelt so fresh and vibrant. The lasagna layered noodles, tomato, and zucchini in between a tofu/zucchini pesto. I added Swiss chard to mine, to up the green factor. Red pepper flakes add a bit of pop. I loved finding leftovers in the freezer a week later – a perfect mid-week lunch pick-me-up.
Overall, this book was well laid out and super creative with standard vegetables being the star. I loved how each chapter focused on a particular vegetable, highlighting it and playing to its different flavour uses. This book is not vegan, but all recipes could be vegan if not already. Recipes are not difficult, and do not take long to prepare. No strange ingredients, no crazy cooking apparatus. An approachable book for any cook who is interested in expanding their vegetable-focused repertoire by revisiting old friends in new ways, or for those who max out at a chopping board and want to learn how to cook fresh, vibrant meals with little patience for confusing directions.
The publishers have let me share a recipe, and I have chosen the Apple Fennel Salad. I substituted the feta for nutritional yeast for that cheesy umami finish. To get the salty tang of feta, I think the next time I will also add a splash of Braggs for good measure. The ingredient list looks odd, but I assure you that it is one of the freshest, unique, and delicious salads of the season. I hope you are as delighted with it as I was!
Note for international readers: The vegetable names are US English names – you can either leave it to whim and discover what an aubergine (eggplant) and coriander (fresh cilantro) are, or you may need to look-up some items in a thesaurus.
For more information on Jeanine and her new cookbook, please visit her website.
Reviewed by Katie Hay
When Katie isn't exploring new cuisines and challenging food conceptions in the kitchen, she can be found at farmer's markets, building and designing bicycles, and planning her next life adventure.
Apple Fennel Salad
Dressing
2 tablespoons (30 mL) extra-virgin olive oil
1 1/2 tablespoons (22 mL) fresh lemon juice
2 tablespoons (30 mL) fresh orange juice
1/2 teaspoon (2 mL) Dijon mustard
Sea salt and freshly ground black pepper
2 fennel bulbs, thinly sliced
1 apple, thinly sliced
4 radishes, thinly sliced
1/3 cup (75 mL) chopped scallions
3 cups (750 mL) baby salad greens
1/4 cup (60 mL) fresh mint leaves
1/3 cup (75 mL) crumbled feta cheese
1/3 cup (75 mL) sliced almonds
Make the dressing: In a small bowl, whisk together the olive oil, lemon juice, orange juice, and Dijon mustard. Season with salt and pepper.
Assemble the salad: In a large bowl, toss the fennel, apple, radishes, scallions, and baby salad greens with half of the dressing until well coated. Add the mint, cheese, and almonds and toss to combine. Taste and season with salt and pepper, and the additional dressing, if desired. Note: Use a mandoline, if you have one, to slice the fennel, apple, and radishes paper-thin.
Serves 4
Vegan: Skip the cheese.
Gluten-Free
Reprinted from The Love & Lemons Cookbook by arrangement with Avery Books, a member of Penguin Group (USA) LLC, A Penguin Random House Company. Copyright © 2016, Jeanine Donofrio
Jun. 07, 2016
Comments Off on Review | Love and Lemons by Jeanine Donofrio
Related Posts