TBT | A Kickstarter and a Donut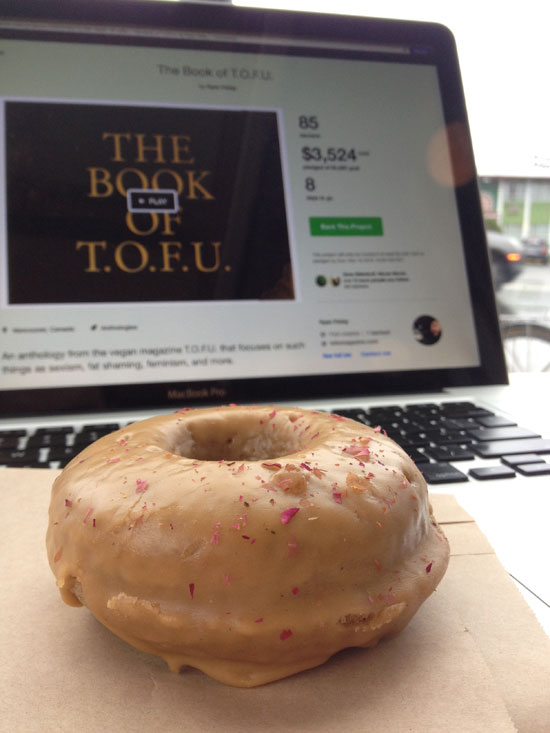 I know I've talked about it a lot over the last two years, but The Book of T.O.F.U. Kickstarter was a big deal for many reasons, so I'm not really about to apologize for bringing it up again. Not only was it a return to print of sorts for the magazine, it was also the first crowdfunding campaign I ever ran. Prior to that, I had never really asked readers to financially back the magazine. So, putting that request out there, and having it receive such a great response still makes me smile.
Of course, thanks in part to the success of the Kickstarter, I've been running another form of crowdfunding to try and bring the magazine to print permanently. Granted, I'm not seeing the quick success with it as I did with the Kickstarter, but I never expected that when I launched it. As I mentioned before, I chose Patreon for a number of reasons, and I still think it's better suited to what I want to do in the long-term.
That being said, as much as running the Kickstarter was nerve-wracking even before I hit the launch button, I do sometimes start to think about other projects that I could do to justify using the all-or-nothing month-long marathon approach. Perhaps I'll do a smaller anthology each year to publish some of my favourite articles until the Patreon campaign reaches the first goal. Or maybe I can set-up a pre-order of sorts for another run of the I May Be Vegan But I'm Not PETA totes given their apparent popularity online.
The point is, even though I lost a lot of sleep while the Kickstarter was running (and I spent plenty of time hitting refresh on the page), achieving my goal showed me that there is potential to do some great things, and it's been long enough now since I was in the midst of it that it doesn't seem like such a bad idea to do it all over again.
Now, if only I could be eating donuts while thinking about all of this…
P.S. I had the remaining copies of The Book of T.O.F.U. sent to my parents' place from Vegan Supply, and I'm tinkering around with the idea of running a contest or two leading up to the holidays to give some of them away. So, stay tuned for that, if you don't already have a copy or in case you want to give one to a friend!
Nov. 09, 2017
Comments Off on TBT | A Kickstarter and a Donut
Related Posts