FBF | Veganism In An Oppressive World Talk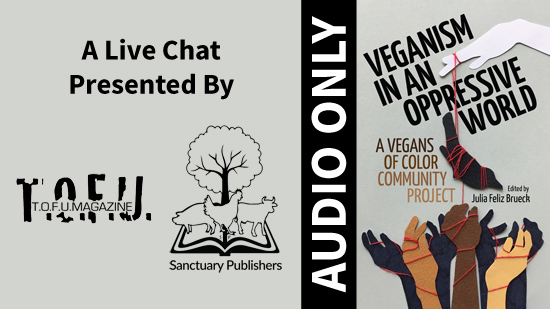 I ended up with a migraine while I was working on these clips from the talk I did with the editor and some of the writers from Veganism In An Oppressive World earlier this year, so I opted to hold-off on announcing their posting on YouTube until today. After all, it just meant I would do a Flashback Friday instead of a Throwback Thursday, which is totally acceptable, right?
Taken from the extended chat, which couldn't be posted due to some disappointing technical issues in terms of quality, each clip offers an author's answer to the question:
"…the book was born out of my frustration with feeling silenced and underrepresented by mainstream vegan spaces, is this something that you have experienced where you are?"
Although the clips provide only an intro to why discussing veganism within an intersectional framework is important, I hope they spark your interest at least a little bit. If so, I recommend you check out the publication by purchasing it through Sanctuary Publisher's shop.
Vinamarata "Winnie" Kaur
Ankita Yadav
Michelle Carrera (Chilis on Wheels)
Apr. 13, 2018
Comments Off on FBF | Veganism In An Oppressive World Talk
Related Posts