Review | Bumble Bloom (Vegan Honey Alternative)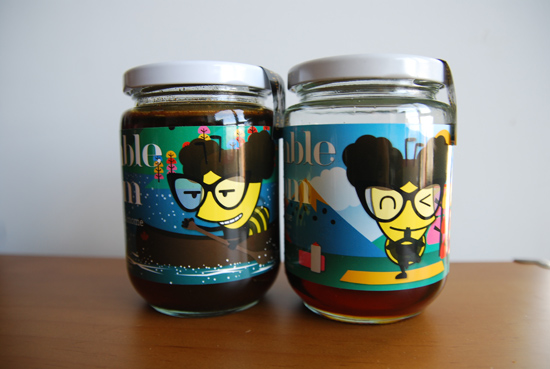 There are few things more divisive among vegans than the ethics of eating honey. I stopped eating honey when I learned how it was made and how much work it takes for bees to make it. With so many other sweeteners like maple, brown rice, agave, and other plant-based syrups, many vegans have a lot of opportunity to make other choices that don't involve taking honey away from bees.
Enter Bumble Bloom, the newest plant-based honey alternative to enter the market. Bumble Bloom, a sticky sweet syrup made from organic apples, fair trade organic cane sugar, apple cider vinegar, and water (plus a flavouring), currently comes in four flavours: Classic, Cardamom, Cinnamon, and Ginger. Together, these flavours step right in to take over in a plant-based diet where honey left off.
First, let's talk about the branding. The packaging and website are full of wonderful and colourful illustrations, showing Bumble, their mascot bee, taking some much-needed time off. Bumble canoes, reads on the beach, does yoga in nature, and hikes. After all, Bumble Bloom is produced in Vancouver, BC, so what else does a West Coast bee do to relax? You can also read Bumble's Blog to see what else this busy bee is doing with her time off. In addition to doing good by bees, Bumble Bloom also donates 1% of their profits to a new organization every quarter – currently supporting Mercy For Animals.
Okay, but how does this amber-coloured, thick, and gooey stuff taste? I decided against making anything elaborate so I could really focus on the flavour. The website has a few recipes, but nothing that really spoke to me, so I went basic with the testing: toast and tea.
The flavours I had to try out were Classic and Cardamom. I first sampled some of each from a spoon and was really surprised by the flavour. There is definitely a detectable apple flavour, which, as an apple fan, I was pretty pleased with. But there is also a surprising little bit of what I can only think to call "honey funk," which I assume comes from the apple cider vinegar. The Cardamom flavour was the same, but with a really pleasant spiced cardamom flavour that made this one a favourite in my home.
To see how the flavours held up against other food, I tried it drizzled on (vegan) buttered toast and on peanut butter toast, and was instantly sold. As someone who doesn't like their toast sullied by the addition of sweet spreads, I can't stress enough how much I enjoyed this. The consistency of the syrup was thick and smooth and, while it is sweet, it's not at all cloying.
Used in tea, it works just as you would expect from a product like this – the Bumble Bloom dissolves really well, with no detectable separation or anything. The sweetness and flavour work really well in a black tea with soy milk and I would happily make this my tea sweetener of choice. I'm looking forward to trying the other two flavours and drizzling them onto my toast and into my tea.
If you're looking to try Bumble Bloom and give bees a break, you can buy from their website. Or, if you live in Vancouver, you can pick it up at Vegan Supply.
Reviewed by Michelle Lee
When Michelle isn't testing products, she can be found taking pictures of her cats, designing beautiful things (such as The Book of T.O.F.U.), and slowly becoming an avid BC hiker. You can find her on Instagram at @foodncatz.
Apr. 10, 2018
Comments Off on Review | Bumble Bloom (Vegan Honey Alternative)
Related Posts