Thailand Vegetarian Festival Food Haul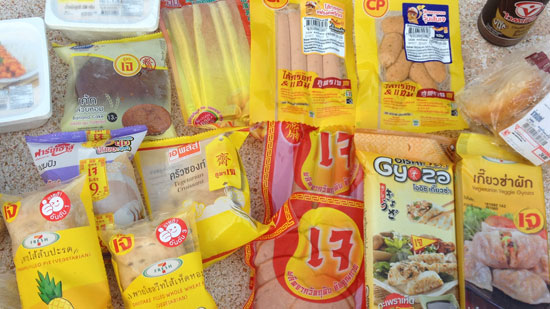 Although this was originally shot for my Where Am I Wednesday YouTube series, I ended up with some weird upload issues here at my new house sit. Luckily, they worked themselves out, but it was well into Thursday when I managed to finally post the episode on YouTube.
Regardless, given just how great things are turning out to be in Thailand during the annual vegetarian festival (especially here in Phuket), I had to post about it on the blog too.
Although I'm about 20-25 minutes drive outside of Phuket City, there are still a bunch of vegetarian food stalls scattered along the streets, and the 7-Elevens and Big C grocery store are filled with signs denoting veg food, which is all typically vegan.
Basically, if you're thinking of coming to Thailand, I highly recommend that you plan it during the veg festival as you'll be sure to have plenty of options for food! Now, if you'll excuse me, I'm going to go eat a pineapple pie or something else that I've stockpiled in the kitchen!
Oct. 27, 2017
Comments Off on Thailand Vegetarian Festival Food Haul
Related Posts